Neopets Cheeseroller Game Guide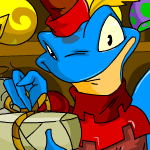 One of the more unusual games in Neopia, the Medieval Cheeseroller game asks you to buy a cheese wheel for your pet to roll down a hill. If they can do it in under a minute, you get to keep your cheese. The salesman asks you to pick out a cheese, but won't tell you what he has to offer, or how much they cost.
Cheese Guide

Quadruple Fudge Cheese
1800 np

Tyrannian Dung Cheese
1650 np

Bubbling Blueberry Cheese
1500 np

Mutated Cheese
1350 np

Alkenore Cheese
1200 np

Brain Cheese
1050 np

Purple Spotted Cheese
900 np

Big Beefy Cheese
750 np

Honey Cheese
600 np

Triple Mustard Cheese
450 np

Smoked Snorkle Cheese
300 np

Spicy Juppie Cheese
150 np
Once you've purchased your cheese, it's time to roll it down the hill! Like Gormball or Cheat, Cheeseroller doesn't rely on quick reflexes or a fast computer. You have 120m to go, and a variety of options (go faster, dive right or left, etc.) for each move. Each move advances 10m down the hill, and takes some time. Various random events (such as getting stuck or taking lucky bounces) can add or subtract from your total time.
Once you make it down the hill, you earn neopoints based on your time - the faster, the better. If you finish in under 60 seconds, you also get to keep your cheese. You can only play three times a day, and beating a minute is harder than it sounds, so cheese wheels are likely to become high-priced items.
Good luck, and get rolling!
---
Last updated 18 July 2002
Visit the Powerpuff Girls Fun Time! Guild pages
Images Copyright 2002 NeoPets.com, Inc. All Rights Reserved. Used With Permission